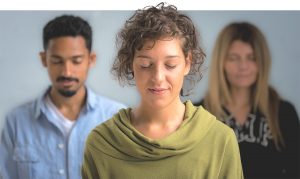 English Meditation Class 
Tuesdays 7 – 8:30 pm with Gen Shenyen
see calendar for dates and booking
We all want to live a fulfilled and meaningful life. Essentially, this means finding a way to be happy.
Often we look for joy and happiness outside ourselves. We hope that certain people or circumstances will give us the pleasant feelings we long for.
The Buddhist view, however, is completely different: our happiness does not depend on conditions outside of us, but on what is going on in our mind. If we are agitated, anxious or depressed, we experience the world around us in exactly this way. If our state of mind is positive, confident and joyful, we experience everything in that light.
Through meditation we learn to recognise and gradually abandon the states of mind that we suffer from, and to deepen and maintain the states of mind that make us happy.
In each meditation we contemplate and meditate on a particular theme, which positively transforms our mind. We discover a source of deep joy and fulfilment, within ourselves. By then connecting this experience to our daily lives, each day gains deep meaning.
6 September – Recognizing how every day is precious
13 September – Contemplating our death enriches our life
20 September – What comes after death?
4 October – Karma: Creating the cause for happiness
11 October – Finding inner protection from suffering
25 October – The courage to face our suffering
These meditation classes are open to everyone interested in meditation and in solving their problems.
Each evening offers the opportunity to follow guided meditations and listen to a teaching on how to practically improve our mind to find real happiness in our daily life.
The teachings are based on the books of Geshe Kelsang Gyatso, who presents Buddha's ancient wisdom in a modern day presentation, suitable for everyone to understand and practice.
At the end of the class there is time for discussion and questions.
Treat yourself to the peace and fulfillment meditation can offer.
Everyone is welcome!
Why meditate?
Buddhist meditation gives us a profoundly optimistic perspective on our lives and our potential. Our human mind is amazing, and if we learn to harness its power, we can not only solve our day to day problems but put an end to all our suffering altogether. Eventually we can experience the clear, pure nature of our mind – a radiant, permanent happiness.
Where should we start if we want to discover the effectiveness of these instructions for ourselves? It is essential that we learn to meditate. Through meditation we can experience the potential and power of our own mind.
We will explore how to develop or improve a meditation practice that enables us to train our mind.
Meditation is a tried and tested method to lead us to a state of inner peace and profound joy.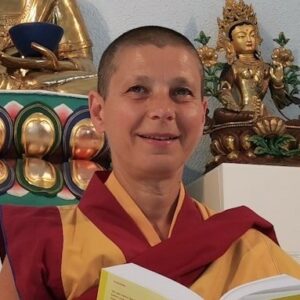 Teacher
buddhist nun Gen Shenyen
Venue
Kadampa Meditationszentrum Wiesbaden
Herderstr. 17
65185 Wiesbaden
Note for booking
Our classes are only in-person 
For booking you will be redirected to our booking software 'fitogram pro'.
You have to create an account once. Only your name and email address are required. You can pay by credit card, direct debit or bank transfer. Would you like to pay with Paypal? Then please select 'bank transfer' as payment method. After completing the booking you will receive an email with all details about our bank account and our Paypal link.